"NIGHTSTOP WAS A SAFE PLACE TO STAY, KEPT ME OFF THE STREETS, I HAD FOOD TO EAT AND FELT COMFORTABLE"
We'd like your Nightstop stay to go as smoothly as possible, so this page is your place to go for practical information and links to support you with that.
Call on 07500770996 if you need to speak to us
Please don't text since our on-call service can only receive calls and not text messages on this number.
Our staff team is available Monday to Friday 9.00 am - 5.00 pm. Our Coordinators H and Tom can be contacted on the number above.
After 5:00 pm weekdays and at weekends the Sussex Nightstop Team number is answered by a volunteer member of our On-call team. They are there to help you with any problems you have with your Nightstop stay that has been set up by your Coordinator. They will call you 30 mins before you are due to arrive with your host to check in and make sure you are okay.
Please call if you:
no longer need to stay with our hosts
are running late or have got lost
need any other help regarding your stay including feeling anxious about staying
Please note: They can't set-up a new Nightstop stay for you - this is what our Coordinators do.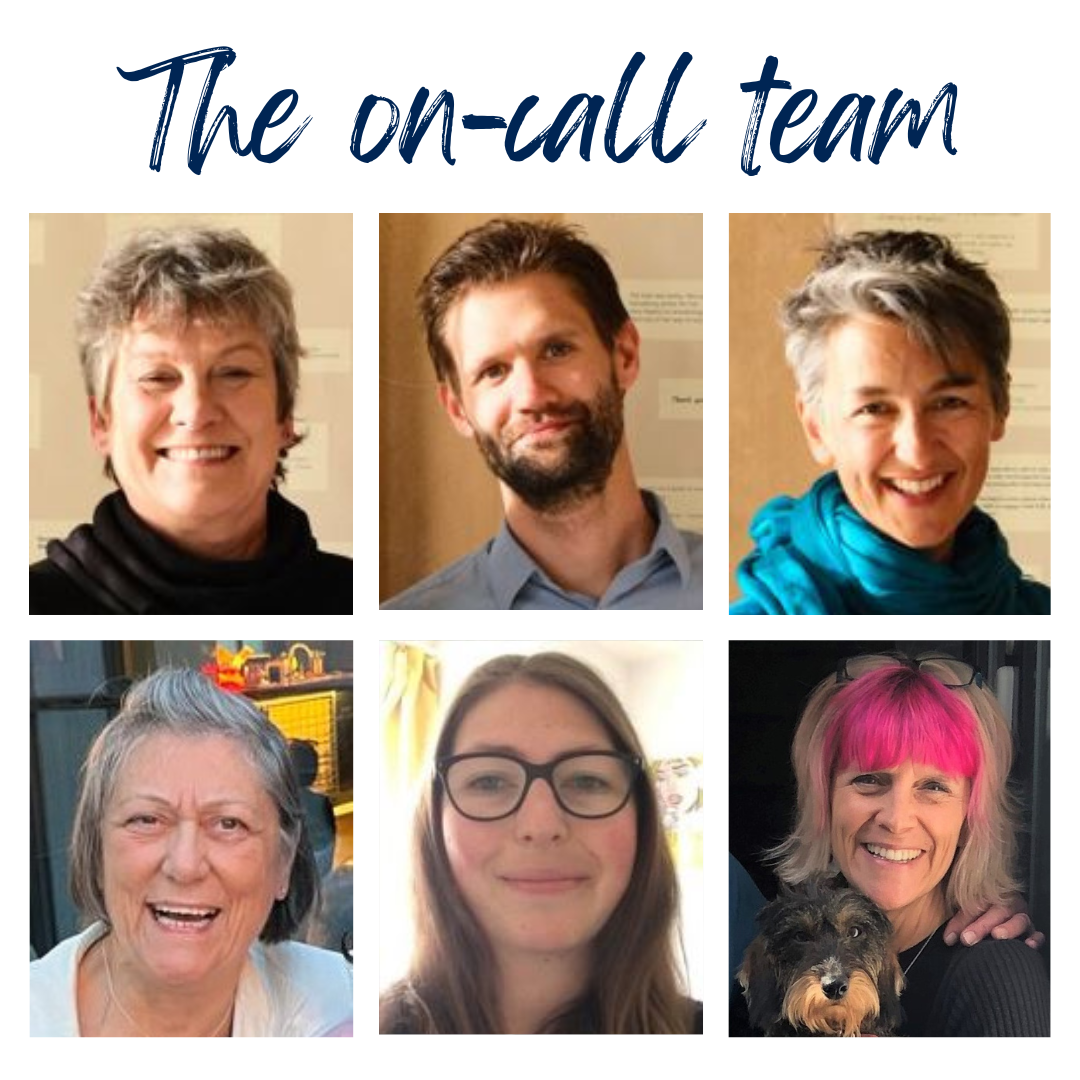 Nightstop - a service geared to YOUR needs!
The Nightstop service is designed to offer somewhere safe to stay - a temporary solution while you look for suitable, longer-term accommodation (with help from a housing adviser) or until it's appropriate for you to return home. We understand that every person is different – and we'll work with you in the way you need it. We want you to have a good experience while you stay with our hosts and everything we do is designed to ensure that happens.
Our team is here to not only set up your Nightstop stay(s) but also to provide support throughout the entire process. We understand that transitions can be challenging, so we're committed to offering a helping hand and ensuring a smooth move. This could include connecting you with another services, making other introductions, helping you make an appointment and checking in to see how you're doing. We'll also talk to you about your longer-term goals and stay in touch with you beyond your stay.
To ensure that your experience remains at the forefront of our priorities throughout your stay, we value your input and would like to engage with you in a meaningful way. We'll ask for your feedback through a brief three-question online rating after your first night, and a more detailed survey later on. Your input is crucial in guiding improvements and enhancing our services. Your comments, shared anonymously, also provide encouragement to our hosts.
Before you read on, explore more about our services with these quick links if you haven't checked them out yet.
"NIGHTSTOP HAS SHOWN ME THAT THERE ARE NICE, HELPFUL PEOPLE OUT THERE"
What you can expect from our hosts
To have a warm welcome, a safe place to stay and somewhere you can have a wash.
Use of a private bedroom.
An evening meal, breakfast in the morning & a packed lunch.
Access to clothes washing facilities.
Space if you need it, or a listening ear if you wish to talk.
To be treated equally and with respect; Sussex Nightstop will challenge, as appropriate, any discrimination against race, gender, disability, sexual orientation, religion or belief system, from anyone taking part in the scheme, which includes guests, Nightstop staff, hosts and volunteers.
What happens if a host doesn't do these things?
We expect our hosts to comply with the conditions of their volunteering role at all times and this includes compliance with our Covid-19 measures when required. If you have any concerns with regards to your hosts, please tell us immediately.
What you can expect from us
Our Nightstop team will arrange your stay with the host and provide you with all the necessary information to make that stay go well, including support with transport arrangements to reach the host's home.
Nightstop provides short-term stays and we have to be confident that a realistic move-on plan is in place and that you are doing what you need to do for that to be successful. We'll support you with this where possible and will liaise with your Housing Adviser regularly.
We'll keep in touch with you consistently throughout your Nightstop stay, even arranging regular face-to-face check-ins. Your well-being is a top priority, so we encourage you to openly communicate any concerns. Whether it's about your stay or anything else, we're here to listen and address any worries you may have. Additionally, we're happy to connect you with relevant services within the city to provide additional support when needed.
You can also expect us to take your wellbeing seriously including keeping everyone safe from infections (coughs, colds, Covid-19) where possible. We will ensure that you have access to any of the necessary infection control items you need such as hand sanitiser, anti-bacterial wipes and face coverings so please let us know if you're feeling unwell.
You'll need to have signed up to ALL of our placement conditions before a Nightstop stay can be set up. Please have a good read of them and we'll talk through them with you and answer any questions you've got.
All of our placement conditions are designed to keep you and our volunteers safe and are what you are agreeing to when you accept a Nightstop placement.  If we find that you are not following the scheme conditions, it's likely that we will need to end your Nightstop placement and in this instance we will refer you back to the agency you came to us through, for example the Youth Advice Service (YAC).
We advise you to take care of your wellbeing. For this we encourage you to:
Try and make and keep to a structure in your day. We'll support you with that. Here are some great places you can access during the day time.
Keep connected with your friends and tell us if you're lonely of if anything is worrying you be it work, training, employability – there are lots of services we can sign post you to.
Try not to think too far ahead. We find that when people break down their stay into small chunks it can help them manage better.
Connect in with your housing advisor as asked, since your longer term plan is the key.
Contact your GP if required.
Eat food at the hosts or take packed lunch that our hosts are more than happy to provide.
Confidentiality
The information you give to Nightstop will remain confidential within the organisation and will not be passed to anyone without your permission. We will not pass on information to hosts unless we feel there is a need to do so for your safety or for the safety of the hosts. The exception to this is if you tell us something that indicates that you or someone else is at risk of harm. In this situation we will have to pass the information onto the relevant agencies to ensure the safety of yourself, or the other person. In all circumstances we will try and let you know what we intend to do, so that you can be involved in the process.
Safeguarding
Sussex Nightstop maintains a zero-tolerance policy towards abuse. If you find yourself feeling worried, anxious, or upset about a situation affecting you or someone else, we are here to provide a listening ear. Even if the details are unclear, or if something simply doesn't feel right, and you believe you might be at risk of harm, please speak to a member of the Sussex Nightstop team. We promise to listen without judgment, take your concerns seriously, and work collaboratively with you to find a resolution.
Feel free to approach anyone you feel comfortable talking to, whether it's your service coordinator or any other member of our dedicated staff and volunteer team.
If your concerns specifically involve a Sussex Nightstop staff member or volunteer, please contact our:
Designated Safeguarding Officer, Alison Marino, directly at 07887 492 927 or [email protected]
Trustee Safeguarding Lead, James Kilmartin, at [email protected]
Equal Opportunities
At Nightstop, we aim to promote environments and communities which are respectful, inclusive, and welcoming to everyone. We believe in treating everyone fairly and making sure our services are open to all. We know that fairness doesn't mean treating everyone exactly the same – it means understanding and respecting each person's unique needs. No one should be left out or treated unfairly because of their race, ethnicity, gender, disability, age, sexual orientation, gender reassignment, religion/belief, marital or civil partnership status, pregnancy and maternity. We're here to make sure everyone feels accepted, no matter who they are. If you feel your experience has been not as per this please let us know.
Comments and Complaints
At Sussex Nightstop, we value and encourage your feedback on our services. Your opinions matter, and we are committed to actively listening and responding to your comments or concerns.
If you wish to express a complaint or share your thoughts about any aspect of the Nightstop service, its staff, or volunteers, please don't hesitate to reach out to a member of our team. If you prefer, you can seek support from another trusted individual, such as your youth worker or social worker.
Your well-being and satisfaction are important to us, and we are committed to addressing your concerns promptly and effectively.
Useful Contact Details:
YAC Housing Advice - 01273 624 432 (9am-3pm) or email [email protected]
YAC Support & Advice – 01273 624 432 (9am-4.30pm) or email [email protected]
---
NHS 111 (free 24-hour number) for non-emergency health issues, the 111 service provides information on health conditions and information on local health services.
---
NHS 119 is a free service for COVID-19 vaccinations, testing, COVID pass and more.
---
Project Antifreeze has rolled out its latest edition of a handy Streetsheet showing all the essential services and supply points for rough sleepers in Brighton & Hove. It is available here.
---
Mental Health Rapid Response Service (MHRRS) for Brighton and Hove helps people who feel they are in a mental health crisis and are at immediate risk of harming themselves or others - 0300 304 0078, 24 hours a day, 7 days a week.
---
Samaritans – 0845 7909 090 for support with emotional wellbeing.
---
MIND Charity – Mental Health services in Brighton including advice, information and advocacy 0300 123 3393 or email [email protected]